A day late but oh well. Happy New Years from Keripo!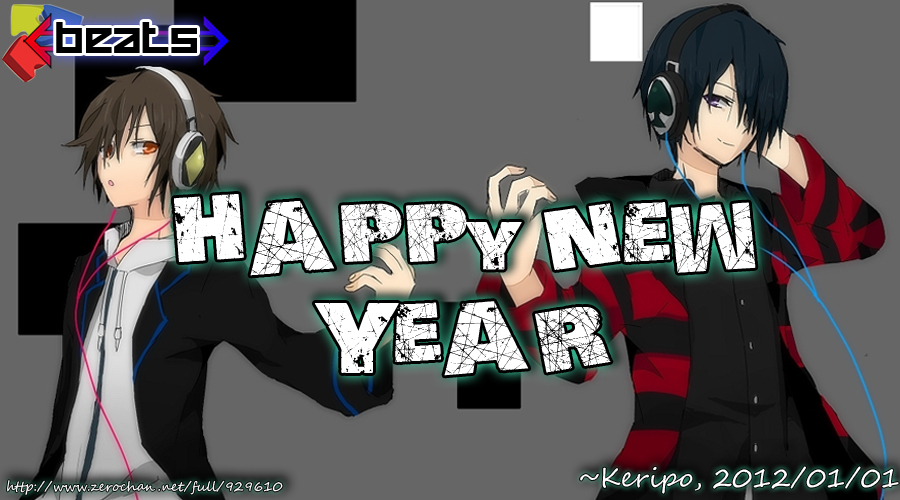 Since the last update quite a bit has happened but here's the rough plan for 2012. There will be two projects: Beats2: Prototypes and Beats2. In a nutshell, I decided to make Beats2 development a part of my senior design project for university (think "undergraduate thesis"), the result of which will be a paper entitled "Designing Rhythm Game Interfaces for Touchscreen Devices". Prototypes will be a demo app that will be used for conducting a study comparing various rhythm game interfaces (i.e. think DDR vs Beatmania IIDX vs DJMAX Technika, etc.) with the results of the study and the basic game engine later being used for Beats2. A general overview of the project can be found here and the current progress report can be found here but details are highly likely to change over the course of the semester (they already have at the time of this post). Here's a quick rundown of things:
Beats2: Prototypes = simple demo app comparing various rhythm game interfaces
Beats2 = full fledged rhythm game using the same basic game engine as Prototypes
Will be developed using the Unity 3 game engine
Unity 3 plugins: ex2D for graphics, Immersion's MOTIV plugin for haptics, FingerGestures for input?
Target platforms: Android, Windows, Web Player
(iOS and Mac OSX targets will depend on level of interest/testers, other targets may come later)
Prototypes expected to be complete by April, Beats2 will be worked on after that
Source code license will depend on plugin licenses, so project may not be allowed to be fully open source ; (
On a side note, although I have long stopped working on Beats 1.X (which was always meant to be nothing more than a small personal project for fun), the Android Market (limited) and Localytics (more accurate) reports for the past year went far beyond my expectations. Especially considering that Beats was and always will be an indie project; I've done pretty much nothing to promote the game so I'm assuming popularity arose from word of mouth. Here's the numbers:
(Note: Beats 1.0b was released sometime Oct 2010 but these numbers only reflect Feb 2011 and after).
420k+ direct Android Market downloads
4.6/5.0 average rating (out of 3.7k+ ratings)
640k+ unique users (includes non Market downloaders)
5.5mil game sessions, average duration of 12 minutes
Most users: China (44%), Japan (19%), USA (15%), South Korea (8%)
All in all, 2011 was a great year, lets look forward to an even better one in 2012!
Links:
Download (Beats 1.7b FINAL)
Facebook (like the page and spread the word!)
Beats2 (will be updated more frequently as the semester goes on)
Donate (Unity 3's iOS license is the same price as the Android license: $400 >_<)
~Keripo
Post your comments and feedback in the forum thread here!