After almost two months of development, Beats 1.4b is finally released! There has been MANY improvements and changes, based on your feedback, and plenty of new features to check out as well!
Main focuses of this update was new songs, easy song downloading, improved .sm file support, stability, and a much, MUCH nicer UI. Much of the items were complete, but as the will indicate, much more was done beyond just those. The only thing on there that isn't yet in this major update is .dwi support - we wanted to make sure the new .sm parser and other stuff was nice and stable first so the .dwi parser will be just as good (if you do find bugs or .sm files causing problems, PLEASE let me know via the ! Oh, and of course, this is the first update that
actually uses the website
(for song downloading that is), so I definitely hope to see the BeatsPortable forums active and kicking!
With the new website, however, comes the hosting costs. At the moment, I've uploaded a ton of songs in the forum section (from which you can download and install songs directly from your phone now). I don't know how much these cheap servers can handle but I won't be surprised if the website does not last to the end of next month. Upgrading the servers costs money, which we, the dev team of poor univ students, would greatly appreciate help with. If you want to help support the development of Beats and its website, please check out the page or just buy the "Beats (Donate)" app, which is exactly the same as the normal free version.
All in all, I hope you enjoy the new Beats 1.4b and BeatsPortable.com website and forums. I will later be recording and uploading a demo video showing off the features of Beats 1.4b once I am done with the upcoming competition, as well as actually writing up the . In the meanwhile, here's the obligatory screenshots of the newest updates to "Beats, Advanced Rhythm Game":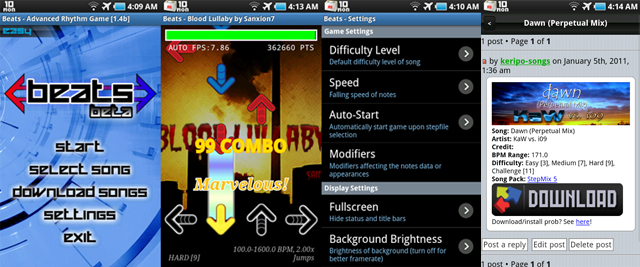 So what can you look forward to in 1.5b? .dwi support, mines, "reverse" scrolling, and hopefully Scoreloop integration (aka online scoreboards for boasting to your friends about your high scores!)
~Keripo